Reduce, Re-use, Recycle
The television series 'War On Waste' starring Craig Reucassel galvanised members of SLA to do something locally.
Armidale has pioneered some excellent recycling management programs like City to Soil but there is room for improvement. Awareness with recycling, junk mail, and plastic bags are some of the fronts this action group will declare war on.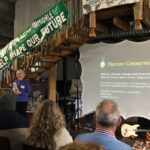 Community involvement in renewable energy projects – from bulk-buying solar panels for multiple households to communities co-owning a small solar farm – is helping to combat climate change while assisting the protection of nature along the way. Community owned or subscribed renewable energy projects have grown hugely over the last few years and there are now [...] full article »

Need an incentive to get out there and take action? Grab your diary because World Environment Day is June 5. It's the United Nations day for encouraging worldwide awareness and action to protect our environment which is something we should definitely all get behind! But guess what – as worthwhile as it is, the good news is you don't need [...] full article »