Armidale Local Food Group are committed people wishing to raise community awareness in relation to the promotion of local food within Armidale and surrounding districts.
At their regular market stall with the Armidale Farmers Markets, ALF provides a wide variety of local chemical free produce from the Community garden and backyard gardens, for sale to the community.
Throughout the year, workshops will be held in areas of interest including composting, planting and garden tours with the possibility to include pruning, seed saving and poultry care.
Armidale Vegetable Sowing Guide PDF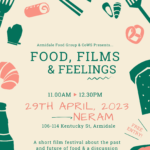 [ Saturday, 29 Apr; 11:00 am to 12:30 pm. ] Armidale Food Group and Community Weathering Station Presents Food, Films and Feelings A short film festival about how food relates to our feelings on the final day of the exhibition Feed the Soul. Starting at 11am in the Mazda gallery amidst paintings of apples and charcuterie, there will be an screening of some food-related films and a discussion. [...] full article »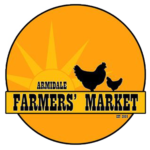 [ Sunday, 12 Feb; 9:00 am to 1:00 pm. Sunday, 12 Mar; 9:00 am to 1:00 pm. Sunday, 9 Apr; 9:00 am to 1:00 pm. Sunday, 14 May; 9:00 am to 1:00 pm. Sunday, 11 Jun; 9:00 am to 1:00 pm. Sunday, 9 Jul; 9:00 am to 1:00 pm. Sunday, 13 Aug; 9:00 am to 1:00 pm. Sunday, 10 Sep; 9:00 am to 1:00 pm. Sunday, 8 Oct; 9:00 am to 1:00 pm. Sunday, 12 Nov; 9:00 am to 1:00 pm. Sunday, 10 Dec; 9:00 am to 1:00 pm. ] Armidale Farmers Market is on the second Sunday of each month at Curtis Park. If you are a paid up member of Sustainable Living Armidale you are welcome to sell produce at the Armidale Local Food stall with a slice of profits going to paying for the stall and surplus goes to SLA which in [...] full article »