Our goal is to help restore a safe climate by:
providing a focus for and giving voice to a strong call for emergency action on human induced global warming at all levels – individual, community and Local, State and Federal Governments.
helping to mobilise strong greenhouse gas emissions reductions and draw down as well as adaptation to climate changes (such as severe drought and water shortage) that are already underway.
The Safe Climate Declaration initiated at the Climate Emergency Summit held in Melbourne on 14-15/02/2020.
Join Climate Action Armidale Facebook Group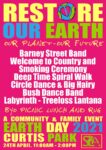 [ Saturday, 24 Apr; 11:00 am to 2:00 pm. ] With floods following fire and pandemic, it's never been more vital to take care of the planet we live on, and the New England community will have the chance to renew focus and learn more about what they can do at an event being planned around this year's Earth Day in April. 'Restore our Earth' is […] full article »
Recorded at The Capitol, RMIT University Below Zero 2030 Emergency Action for Negative Emissions The dramatic shift in mainstream climate policy in support of a zero-emissions target is widely welcomed. But are we at grave risk of missing our intended outcome by attaching highly dangerous timeframes to this critical goal? Panel: Saul Griffith – Founder and Chief Scientist, […] full article »