Saturday, 12 Nov
10:00 am
to
8:00 pm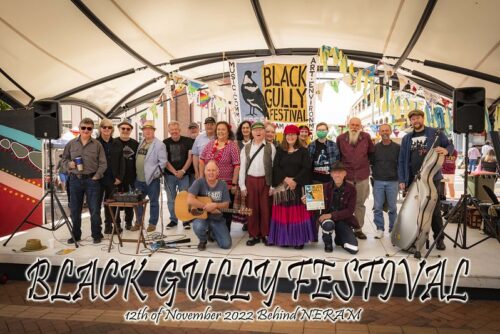 The Black Gully Festival is back!
After a two-year stagger, the Black Gully Festival 2022 is back on the community calendar. The 11th festival will kick off in the parklands around NERAM on Saturday the 12th November, 2022 with the themes of Music, Art, Environment, Community. This a great free, family-friendly event that celebrates all that is good about living in Armidale as the weather (finally) warms up! This year the festival is proudly funded by the NSW Government in association with Armidale Regional Council as well as many local sponsors.
The heart of the festival is live music, with performances from 10am to 8pm on 3 stages. All of the music is by local performers and includes a wide range of musical styles with bands, soloists and small groups highlighting the fantastic talent in this region. The Music program is presented by The Musicians of Armidale. This year we are mixing some of our fantastic youth performers through the program.
The Environment theme also continues with the Southern New England Landcare team on hand for people to learn more about local Koalas with a Koala Scat Detection Dog Demo a key event of the day wheb The Canines for Wildlife team provide an exciting public demonstration. There will be displays from Armidale Tree Group,  Sustainable Living Armidale, Wildlife Habitat, Armidale Urban Rivercare, Uralla ZNet and Armidale Regional Council. A series of workshops will be running throughout the day on Climate Action Haiku, Cool-climate permaculture, making seed balls, tree-planting, fermentation rescue and a slow living Armidale Food School.
Supporting the music program is a range of other activities including a Makers Market featuring local artisans and foodies with an exciting array of wares.
The Slow Fashion tent is back, where you can bring clothes to swap for others. This activity is always popular with many people getting some great new fashion pieces while seeing someone else enjoying something they no longer had use for. Clothes, shoes, bags, accessories for both women and men feature at this stall. Any excess clothes or items can be donated to Lifeline, who will have a Pop-Up shop on site.
UNE Smart Region Incubator will host a program of speakers on clean technnovation and local farmers, Glen Chapman, Richard Daugherty and Tom Yeomans will talk about regenerative agriculture.
The Armidale Food School @ Black Gully Fest is a seminar series that examine a range of issues around making time to care differently for food. Developed by Nicolette Larder and Jennifer Hamilton at UNE, festival participants can join in one or all of 5 workshops and expect to  build skills to assist them to slowly change habits in the collective transition to a post-carbon economy.
The Deep Time Spiral Walk will be lead you through the evolution of our planet. Participants will walk the spiral that will be marked according to planetary events across 13.8 billion years. This narrated path will lead us through the immensity of the Earth journey giving perspective to the emergence of humanity and our world.
NERAM and the Armidale Cultural Centre and Keeping Place will be open all day with great exhibitions.
The Black Gully Festival is a community-driven event so you never know what other activities and events are likely to pop up on the day. Look out for the Koala Dance! To make the most of the day we suggest you bring a folding chair, a water bottle and a coffee cup. Given the wet weather a pair of gumboots might be handy too!
Black Gully Festival is free and open to all ages thanks to the NSW Government and Armidale Regional Council, while other festival costs are covered by our generous sponsors who are mostly local businesses and community groups. Many people volunteer their time or loan equipment to put this event together.

Festival Program
Music Program
Market Stall stage
10.00am – Ben & Maxine
11.00am – Bruces Country
12.00pm – Opening on main stage
1.00pm – Archie Todd
2.00pm – Pete Stanley
3.00pm – Shindig
4.00pm – Massiel Barros-Torning
Slow Living Workshop Program
Sustainable Living Armidale and Climate Workshop program 
Workshop: The Practice of Slowing Down (10am-11am)
Workshop: Making time for food (11am-12pm)
Reading Group: Decolonising Food 12.30-13.30
Panel: Climate and Health 14.00-15.00
Workshop: Climate Change and Chores – 15.00-16.00
For more information look for additional posts on the SLA website, visit Black Gully Festival on Facebook and Instagram.  In addition a full program of events will be available at the NERAM event website