Saturday, 12 Nov
10:00 am
to
2:00 pm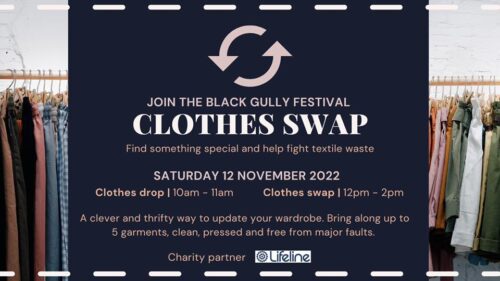 Join us for the Black Gully Festival Clothes Swap, a wonderful and environmentally friendly way to refresh your wardrobe, or you may find something special for a friend or family member. On the day bring along up to 5 quality garments, clean pressed and free from major faults.

The clothes drop off will take place between 10 and 11 am, at the Slow Living workshop tent located across the creek from NERAM.  For each garment you bring you will receive a token which you will then be able to exchange for a garment at the clothes swap event, taking place from 12pm to 2pm. Any remaining clothes will be sold at the end of the day with all proceeds going to Lifeline.
It costs an estimated $39 for every call made to Lifeline and every donated dollar helps connect a person in need with a Lifeline crisis supporter. A pop-up Lifeline boutique will be also be open on the day from 12pm to 3pm.

To register your interest follow Black Gully Festival Clothes Swap on Facebook and Instagram or simply turn up on the day.