Saturday, 30 Sep
5:00 pm
to
11:00 pm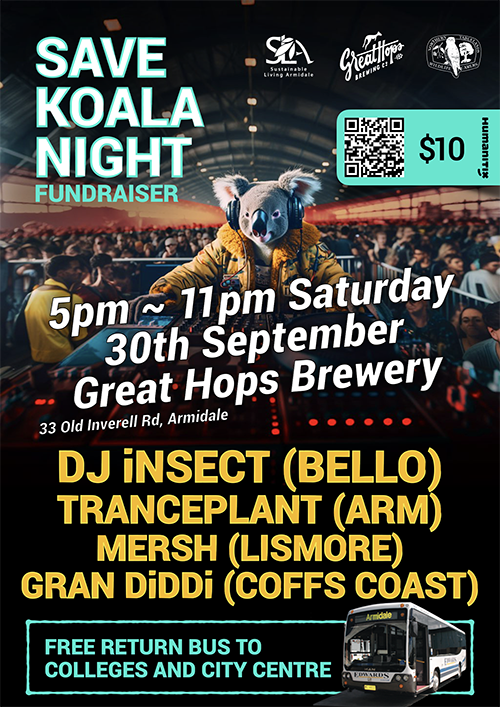 Save Koala Night is a 4 x DJs fundraiser celebrating our amazing and unique furry friends. It follows Save Koala Day celebrated on September 30 every year, and is part of the Save Koala Month celebrations organised by the Australian Koala Foundation.
Join us, 5pm Saturday September 30 at the Great Hops Brewery, 33 Old Inverell Rd , Anaiwan Country, Armidale.
Tickets are $10 from Humanitix
All proceeds will go to Northern Tablelands Wildlife Carers
Entertainment starts at 6pm till almost 11pm

For all the latest please see the FaceBook Event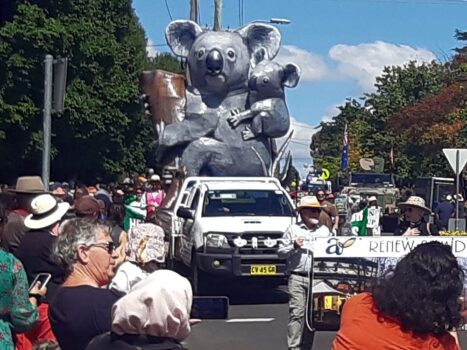 On site will be a massive 5 metre high Koala with her Joey sculpture (Armidale Autumn Parade float), Northern Tablelands Wildlife Carers mobile clinic, koala themed beer on tap, burgers/tacos/bar snacks, and much more.
Children 14 and under FREE, must be accompanied by an adult — there are games like corn hole and a free arcade machine with throwback games from the 80s!
A FREE bus back through the colleges and city centre will be available to get you home safely.
Koalas want to get home safe too, so join us for a fun night while helping raise funds for the sustained health of koala populations.