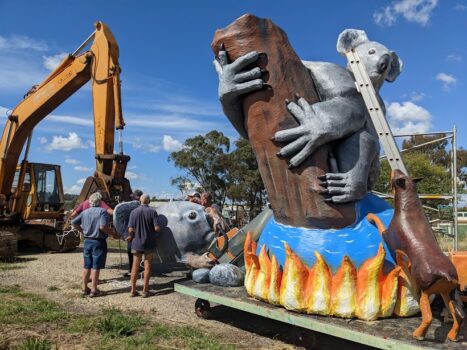 The Giant Koala and Threats Community Art project (Renew Armidale) is supported by Sustainable Living Armidale, and will makes its debut appearance at the Armidale Festival and Parade on  Saturday April 1st, 2023.
Can you help make this happen? or help on the day?
We will also be creating an educative and interactive Koala expo with the Northern Tablelands Koala Partnership Project, the Armidale Tree Group, Northern Tablelands Wildlife Carers, BanBai Rangers, Armidale National Parks, Armidale Urban Rivercare and many others around Protecting Our Koalas, as part of  the festivities of the day.
We need a team of  supporters! — So if you can help with any of the following jobs please tick where you can help, submit your details and someone will contact you:
Thank you everyone and hope to see some of you somewhere in the days ahead!
Can you let me know what you can do by Monday March 31st?  Thank you again.
Kind Regards
Annette Kilarr
Convenor — Climate Action