Saturday, 15 Oct
10:00 am
to
2:00 pm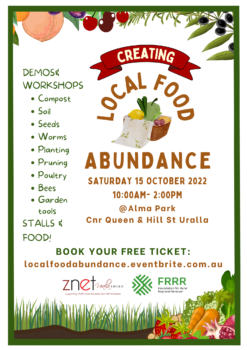 Happening on Saturday 15 October, Creating Local Food Abundance is a day of demos, workshops and stalls to give our food-growing activities a boost this Spring.
Presenters include Julie Hicks (Uralla Garden Project), Allan Thomas (Armidale Beekeeper) and Ray South (Banded Bee Farm).
Talks and demos will include soil types for our area, planting guide, compost, worms, bees, permaculture, food preserving and mending garden tools.
Stalls include a plant sale and the Ezidi Food truck. There will be a planting activity for children and a painted rock hunt