| | | |
| --- | --- | --- |
| Wednesday, 6 Apr | to | Saturday, 9 Apr |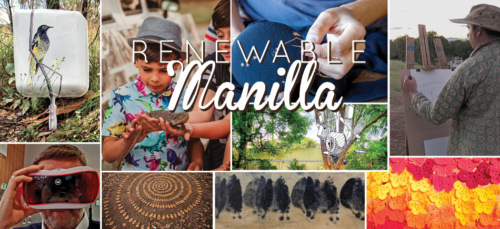 What is Renewable Manilla? A festival of ideas and experimentation around renewable energy, art, technology and climate change. A chance to showcase the small township of Manilla, whose dreams of a brighter future are becoming a reality and we want to inspire other communities to do the same.
Concept: Offer STEAM opportunities for local schools and an enjoyable break for the whole family. Come to Manilla and be Inspired.  Create space for collaborations our local community and regional artists, scientists, engineers and makers; to share new ideas and approaches of how our future can be 100% renewable, and more sustainable. And have FUN!
Background: Manilla Community Renewable Energy Inc. has been working to build a solar project that benefits our community.
Has the support from community – local schools and organisations are coming along to have some fun!
Looking for volunteers for festival
Has speakers on climate change, solutions and new approaches & tech and open to more!
Open invitation to attend the festival and 100 Mile Dinner
Tickets for workshop available from Eventbrite
Yaama Yoga — Local Gamilaroi lady Charlie Abra leads Yoga every morning to start the day.
Nature Mandalas — Jodie Herden, Local Gamilaroi artist Jodie Herden will show participants how to draw mandalas and use elements from our natural environment to create mandalas.
Batik and Eco-dyeing   — Kelcie Bryant, Lyneice Keogh, Learn the natural process from First Nations artists of eco-dyeing using local materials, eucalyptus plants etc. Learn the traditional art of Batik dyeing using Bee-wax relief.
Animal House and Insect Hotel — Jo Stead, Local Ecologist Chloe Parkins, In conjunction with University of Tasmania and utilising local ecologists participants will learn about and consider local animals who are threatened due to land clearing. Design and build models of habitat suitable for local species.
Solar powered GAME Music — Guy Beal & Friends, Experiment with sound and make your own musical tracks. Each workshop will provide an introduction to making battery powered (solar charged) music with Korg Monotribes, Nintendo Gameboys (nanoloop) and Korg LittleBits synths. Solar battery recharging will allow the batteries to be sustainably recharged.
Solar Innovation — CNRL Innovation Studio, Build your own solar cooker. Harness the power of the sun to cook in a box. Make your own Solar Cooker from tinfoil and items commonly found in the recycling.  Bake biscuits, cook rice – even cook a vegetable stew with just the power of the sun!
100 Mile Dinner — In its third year in 2022, Manilla Community Renewable Inc, will host another 100 Mile Dinner, an opportunity for people to get together and enjoy a delicious meal – made from local produce. An example of sustainable dining – showcasing the importance of reducing food miles and food waste.