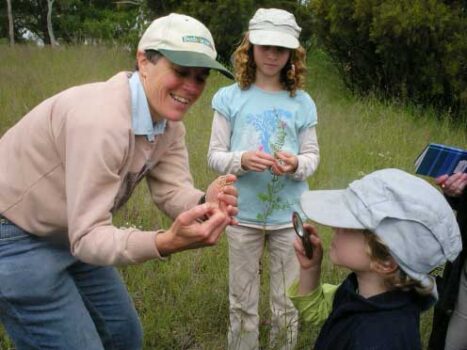 In 1974, a year before completing her HSC, Kate and her parents Joan and Robert Boyd, became founding members of Armidale Branch, NPA.
Kate was already a committed conservationist as, during the early 1970's, she organised Inspect, a nature based study group at Armidale High School. She also began mapping Armidale's native vegetation around an old quarry site. Her dedication resulted in establishing the Snowgum Bushland Reserve where she initiated walking tracks and provided information about its natural values to enable the Council to erect interpretative signs.
Kate still takes people on "discovery" walks and recruits volunteers to help each week with weeding, planting and watering in the Reserve. Since 2002 Kate has led volunteer bush regeneration efforts in 3 public parks in Armidale which support endangered ecological communities. Initially part of a Greening Australia project, her on-ground work was as a volunteer after her employment by Greening Australia ended. She also worked part time under Armidale Tree Group's contract with the local council with additional tasks as a volunteer and has continued this since the funds for paid work ran out. In 2009 Kate joined the Steering Committee of a $2m biodiversity project for 4 Council areas.
Since the 70's Kate's involvement with NPA has been constant no matter where she worked and lived, so she may be the only person having had association with 4 branches – Armidale, Hunter, Sydney and Southern Sydney. She was on the NPA State Executive 1987-1989. Other positions include Hon. Treasurer of two branches; State Council rep for Armidale 1976-8, 2009-2010 and Southern Sydney 1995,1997; Branch committee member of Hunter 1981; Sydney 1986; Armidale 1976,'78; 2011; 2015-2021; Vice President Armidale 1979 and Acting President Armidale 2014.
She has won two NPA awards, (2004 and 2007).
Under the auspices of Armidale NPA she organized a field day to draw attention to the weed Coolatai Grass. This included groups such as Rural Lands Protection Board, Weeds Authority, NPWS and landholders at Mt Yarrowyck Nature Reserve.  Kate has been a speaker at other field days about native vegetation on farms and weed and feral animal control.
Over the years she has organized and lead many walks (including The Great Australian Bushwalks 2003 – 2006), organized field days, biodiversity surveys, given talks with slides or power point presentations and organized public nature based displays (e.g. Nature in New England a photographic exhibition).
As a 21 year old, Kate gained a Ministerial appointment to the New England National Park Advisory Committee in 1979-81, probably the youngest person in NSW to achieve this honour. She also served on the NPWS Northern Tablelands Advisory Committee 2004-9, and the Border Rivers – Gwydir Community Conservation Advisory Committee 2007-11.
In 1996 she attended the Conference of the Parties to the Ramsar Convention and was NPA's representative in the Australian Committee for IUCN (the World Conservation Union) from 1987 to 1996, at the IUCN General Assembly in Perth in 1990 and at the World Conservation Congress in Montreal in 1996.  These roles involved co-operative development of recommendations for action on an extensive range of conservation issues including negotiation with senior government officers from various countries.  From these Kate learnt about a diversity of approaches to on- and off-park conservation and resource management in many different states, countries, public and private land tenures including a university-owned biosphere reserve.
Her  varied and extensive employment has dovetailed with her interests and volunteering in nature conservation, environmental education, and natural resource management since the early 1970s, working individually or through various organisations on a wide range of issues. She has worked on projects with local and state government agencies including  Dept of Environment and Climate Change where she analysed inflows into Gwydir Environmental Contingency Allocation (ECA) in Copeton Dam and alternative uses of this water; produced a second model of Gwydir Supplementary Water volumes and used output to improve the ECA model.
She has prepared plant lists and a booklet of photos of plants in remnant of native vegetation in Narwan Recreation Reserve for Aboriginal people.
Another example: from late '91 to mid '95 she worked for ecologically sustainable management of river & floodplain ecosystems in the Murray-Darling Basin. This was principally voluntary work as a member of NPANSW & as NPA's representative in the Inland Rivers Network, a coalition of environment groups.  It also included part-time employment in 1993-4 by the Australian Conservation Foundation on their Upper Darling Catchment Project where she focused on water quantity issues and the Darling catchment.
She is a regular participant in Sustainable Living Armidale. This community group aims to encourage and enable local people to change life styles that involve less greenhouse gas emissions and help our community be more resilient and sustainable and she is an active committee member of Armidale Tree Group.
Kate currently liaises with landholders whose properties are threatened by a dam proposed for the Mole River, near Tenterfield. She recently involved NPA members on a weekend visit to properties as part of a landholder initiative Love our River.
She makes many submissions to local government, state and federal governments and attends forums on environmental issues.
Kate is always willing to help our Branch and NPA in practical ways and generously gives her time and shares her knowledge with many individuals, groups, agencies, local government and community.
We have however, learned that is prudent to factor in extra time on excursions with Kate, as not only is she a keen photographer but also likes to stop frequently to examine plants, animals, rocks, pools and streams and to describe what she sees to the folk walking with her.
Kate's long-term NPA involvement, her respect and love for the natural environment and her enthusiasm for sharing her knowledge and involving the community in practical ways to assist in the protection of the environment is outstanding. Armidale NPA believes that this legacy also pays respect to the considerable contribution to NPA by her parents, Joan and Robert Boyd, and we are confident that Kate's contributions will continue unabated into the future.
Lynne Hosking   5 November 2021