Thursday, 22 Apr
5:30 pm
to
8:00 pm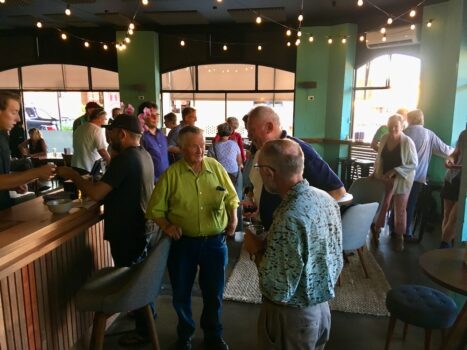 Armidale 'green drinks' takes place on Earth Day this Thursday and paves the way for a special community event on Saturday, April 24th.
A growing Armidale tradition, green drinks is an informal opportunity to meet and greet fellow business and community people who work in, or advocate for, the environment, sustainability, clean energy and carbon reduction.
Initially started by David Carr (Director of Stringybark Ecological) and held at the Armidale Club, green drinks has been continued by Sustainable Living Armidale at various venues to welcome anyone who works or cares for the environment, including consultants, advocates, community members, government officers, researchers and horticulturalists.
This years' green drinks will be held on Earth Day, Thursday, April 22nd, at The Imperial Hotel, Armidale, any time after work starting from 5pm (officially ends 7:30pm). The gathering will be casual with finger food provided and finish by 7:30pm. While there won't be any speeches, everyone will have the chance to introduce themselves and the organisation they represent to encourage networking and interaction. Bring your business cards and brochures!
While green drinks is itself on Earth Day, it paves the way for 'Restore the Earth', a larger community event on Saturday, 24th April, near the Labyrinth at Civic Park in Armidale from 11am to 2pm.
The event will bring together activities and music to invite reflection on the Earth's needs as well as its gifts. This will include Deep Time Spiral Walk around the park commencing at 12 noon that will lead participants through the evolution of our planet and narrate the immensity of the Earth's journey.
A community circle dance with folk music is planned after the walk, and the vintage and original earth cabaret band Treeloss Lantana are reforming for the occasion. There will be opportunities for climate action and education, and the event will be family friendly with activities for children and young people.
Everyone is invited to get together, bring a picnic lunch and enjoy Civic Park's spacious atmosphere.  A small number of food and coffee and sustainable goods stalls will be available. The event will be plastic bottle free with water stations provided and will aim to minimise waste.
The event is organised by Climate Action Armidale in conjunction with Sustainable Living Armidale. It coincides with other Earth Day events being held around the world, including the US Biden administration's convening of a global climate summit. Earth Day 2021 is also the 5th Anniversary of the signing of the Paris Agreement.
Covid 19 Reminder: Bear in mind the current requirements for social distancing and please observe Impie's COVID management regime.
Looking forward to seeing you there