Wednesday, 25 Sep
7:30 pm
to
10:00 pm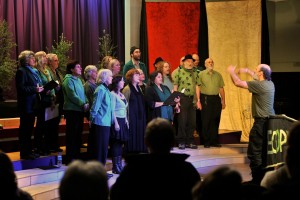 Ecopella – causing harmony to the environment at rallies, protests, festivals and concerts since 1998.
Ecopella is an environmental choir that sings about the beauty of our world and the struggle to protect it from exploitation and destruction. Founded in 1998 by musical director Miguel Heatwole, the choir serves the environment movement by providing activists and audiences with the opportunity of enjoying a very high standard of a cappella singing. The strong environmental message of Ecopella's Save-The-World Music encourages positive change in people's thoughts and actions and offers support to a wide variety of green organisations.
Ecopella originated in Sydney and we now have branches in the Blue Mountains, Illawarra, Canberra and the Central Coast as well. We have over 325 performances to our credit, embracing a wide range of events: benefit concerts, protests, campaign launches, community gatherings and folk festivals.
You might expect a choir that sings about the environment to be a gloomy ensemble, but Ecopella's sense of fun fills each performance with positive and satirical messages. Even when the mood becomes serious the beauty and solemnity of the music uplifts the listener. A lot of the pieces are original compositions and most of the arrangements are ours also. Stylistically our influences include folk, classical, popular songs, and occasionally jazz.