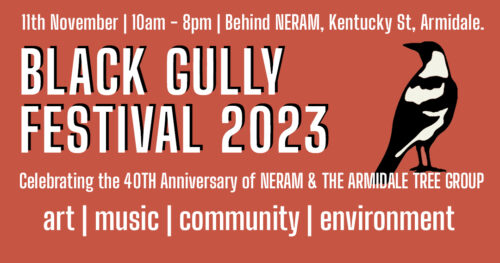 The always highly anticipated Black Gully Festival is set to kick off on Saturday, November 11th, 2023, in the scenic Black Gully Reserve (behind NERAM on the south side of the creek). This free, family-friendly event celebrates the vibrant spirit of Armidale as the weather warms up, offering a day filled with music, art, environmental and community engagement. The festival promises an entertaining experience for attendees of all ages.
The heart of the festival lies in its live music performances, taking place from 10am to 8pm across three stages. Showcasing the exceptional talent within the region, local bands, soloists, and small groups will captivate audiences with a diverse range of musical styles presented by The Musicians of Armidale.
FESTIVAL PROGRAM
10.00am – 4.00pm – Makers, Community and Environment Markets
11.00pm – Remembrance Day Commemoration, Welcome to Country, and Official Opening
10.00am – 3.00pm – NERAM Family Art Making (@ the tennis wall)
10.00am – 8.00pm – Giant Koalas –  near the Main Stage
7.30pm – 9.30pm – Astronomy night with the Stars @NERAM cafe
MUSIC PROGRAM
Main Stages
10.00am – MC
10.15am – Archie Todd
11.00am –    Opening Ceremony
11.30am – Tandav School of Dance
11.45am – Firebirds
12.15pm – Chilli Jam
1.00pm – Armidale Electric Orchestra
1.45pm – MC & The Squares
2.30pm – Strung
3.15pm – Borderline
4.00pm – Four Book Trilogy
4.45pm – Vinnie & The Cuban Missiles
5.45pm – Cat Trousers
6.45 – The Foundlings
Acoustic Stage (NERAM Cafe Courtyard)
10.00am – Maxine & Ben
10.40am – Judith Betts
11.20am – The Parsons & The Peas
12.00pm – Ian Russell
12.40pm – Pete Stanly
1.20pm – Josh McFarlane
2.00pm – Bruces Country
2.40pm – Altones
3.20pm – Kath Kelly & Des Ahoy
SLOW LIVING WORKSHOP PROGRAM
3 x 3o min sessions @ 10.30am, 1.00 and 2.30pm
Clothes drop – 10.00 to 11.00am – Clothes swap – 12.00 to 2.00pm
3 x 3o min sessions @ 11.00am, 1.00 and 3.00pm
2 x 3o min sessions @ 12.30pm and 2:00pm
3 x 3o min sessions @ 11.00am, 1.30 and 3.00pm
Fix It with Bar Finch @2.30pm
SUSTAINABLE  LIVING ARMIDALE & FRIENDS WORKSHOP PROGRAM
Complementing the music program is a fantastic range of activities, workshops, and a makers market that will showcase the creations of local artisans. Food stalls will be available throughout the day and night, ensuring attendees are well-fed and there will be art making activities for kids.
The festival's commitment to the environment continues with displays from organisations such as Southern New England Landcare, and Sustainable Living Armidale and back by popular demand are the slow living workshops covering topics such as permaculture, composting, fermentation and the Fix It tent.
This year, festival partners Armidale Tree Group and New England Regional Art Museum are celebrating their 40th anniversaries. Pop over to NERAM to explore their current exhibitions including Inspirations and Iterations features 40 works selected from NERAM's collections, along with 40 original contemporary responses by invited artists. In its 40 years of operation the Armidale Tree Group has grown and planted millions of native trees and shrubs to create and sustain biodiversity in our local environment, this will be marked at the festival with a campaign to raise funds for a new bridge in Black Gully to complete the Mike O'Keeffe Woodland and for continuing tree planting projects.
As a community-driven event, the Black Gully Festival is known for its surprises and unexpected activities. Look out this year for the Giant 5m high Koala and her baby who will be on site. Festival goers  are encouraged to bring a folding chair, a water bottle, a coffee cup, and  considering the possibility of hot weather good sun protection.
Thanks to the support of Arts North West, Armidale Regional Council, and local sponsors, the Black Gully Festival remains free and accessible to all ages. The festival's success is also indebted to the contributions of numerous volunteers and equipment loans from the community.
For more information look for additional posts on the SLA website, visit Black Gully Festival on Facebook and Instagram.