Saturday, 11 Nov
10:00 am
to
8:00 pm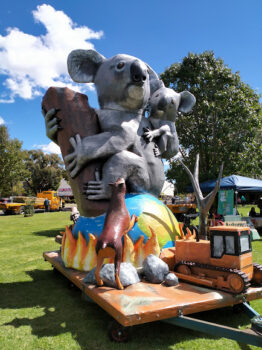 The 5m high Giant Koala and her baby that first attended the Armidale Autumn Festival will be appearing again at the Black Gully Festival this year.
Come on down to the festival on November 11th  from 10:00am to 8:00pm (at the creek lands at the back of NERAM), see her next to the music stage and support raising awareness to save these wonderful animals and many others under threat of extinction.
This free, family-friendly event celebrates the vibrant spirit of Armidale as the weather warms up, offering a day filled with music, art, environmental and community engagement. The festival promises an entertaining experience for attendees of all ages.
It took a wonderful team of over a 100 local Armidale people, volunteers and donations from businesses to build the Koala tableau designed by overseas artist Neil Turner. Brought to you by Renew Armidale and Sustainable Living Armidale the Giant Koala sculpture highlights both the seriousness of the threat to the Koala population and showcases an impressive presentation of what can be achieved when community comes together.
In the tableau our giant Koalas are clinging to the remnant of a forest tree surrounded by the major threats to the their existence. These include global warming and the increased severity and frequency of bush fires, depicted by the flames surrounding the globe. Dogs, wild and domestic, are a continuing threat to Koalas. Land clearing destroys Koala habitat and irresponsible logging depicted by the chainsaw again destroys habitat.  The threat is real and action is need. Locally, the Northern Tablelands Koala Partnership Program of Southern New England Landcare and other organisations are working hard to raise awareness and provide koala support.  The Armidale Tree group has been a stalwart organisation in this regard with respect to the growing and facilitation of koala habitat plantings across the New England. It celebrates its 40th anniversary at Black Gully this year.
Contributors to the sculpture have included Maurice Anker, papier mache master, Kel Hughes welder, Brian Miller CNC machining, Garry Slocombe visionary, Gordon Cope facilitator builder, Annette Kilarr negotiator organiser, Julie Collins dancer AND a host of others. Local Businesses helped with equipment and generous discounts in her creation. Hubbard Hire, Armidale Building Supplies, Welding Rod, Peter Ducat and Johnson and Kennedy are some of the many who have rallied to the cause.
Come and see the giant Koala and her baby at Black Gully Festival and follow us or contact on Facebook