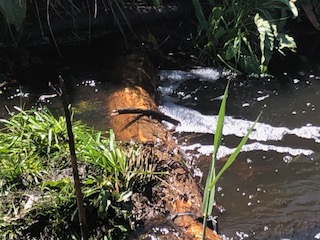 We had a great day last Sunday planting 1360 grasses (Juncus, Carex and Lomandra). We also planted 1000 on 28 September but had to replant 328 of these that were pulled out on 4 October.
Sarah Mica from UNE's Aquatic Ecology and Restoration Lab showed us how to place log barriers instream to enhance aeration last Friday.
We received a certificate of appreciation from ATG at their 40th birthday celebration. Great recognition for an ongoing partnership!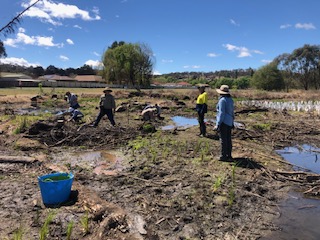 We will be planting trees and shrubs tomorrow, and Friday involving the Y10 students from Armidale secondary College. This will involve planting, cartons and stakes. There is likely to be a big number of students so it would be appreciated if some members could assist and offer guidance to the students each day.
Our next Sunday working bee will be Sunday, 22 October, and also involve planting, cartons and stakes. This will be with the TAS students and member support with supervision would be great.
Details for all three working bee sites are as follows:
Time: 8.30am
Date: Wednesday 11th October, Friday 13th October and Sunday 22nd October
Location: Park on the cleared area on the southern side of the creek accessed off Kennedy Street. Turn left into the gap between the trees before you reach the house at the end of the street. We will be planting at our WW2WW site with the sign. Follow the AURG Working Bee signs .