| | | |
| --- | --- | --- |
| Saturday, 16 Sep | to | Sunday, 17 Sep |
////THIS EVENT HAS BEEN CANCELLED INDEFINITELY/////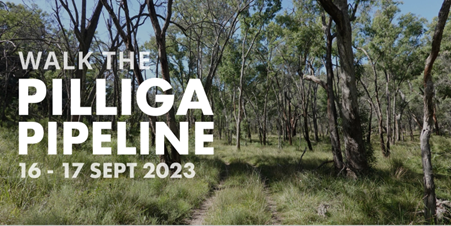 Location: Newell Highway & X Line Road
Newell Hwy & X Line Rd, The Pilliga NSW 2388, Australia
Event description
Join us for a community walk along the proposed lateral Pilliga Pipeline route. Experience the beauty and biodiversity of the Pilliga Forest and hear from local campaigners, ecologists and First Nations people about why this proposed pipeline must be stopped.
Event Details
Event Start:

Saturday 16 September 8.00am, Smithers Gate

Event End:

Sunday 17 September 4.00pm, Bohena Creek

Location:

Smithers Gate > Bohena Creek
Over 2 days, walk the 31km along the proposed lateral Pilliga Pipeline, which will connect the Pilliga gas wells to the Hunter Pipeline. We will camp the night at Yellow Springs Dam, with dinner and entertainment included.
Event Cost
Concession (students, people experiencing financial hardship) : $50
Standard: $80
Pay it Forward (support others to attend the event by contributing to another event cost): $120
Included:
Support along the walk (transport, food, water, guides)
Camping at Yellow Springs Dam (BYO tent + sleeping gear)
All meals – Lunch Saturday > Lunch Sunday + snacks
Amenities at Yellow Springs Dam
Transport of camping gear from X Line Road > Yellow Springs Dam > X Line Road
Please Note:
Attendees must be 16+ years of age unless authorised
No fires or alcohol permitted at Yellow Springs Dam
EVENT HOSTS
This event is a joint initiative by:
Wando Conservation & Cultural Centre,  For Wild Places,  North West Protection Advocacy,  People for the Plains, Farm & Pilliga Pottery
Get in Touch
Want some more details? Feel free to reach out to the following organisers:
Anna Christie | leardforestresearchnode@gmail.com | {mobile prefix oh for}25 322 186
Hilary McAllister | hilary@forwildplaces.com |{mobile prefix oh for}90 483 548