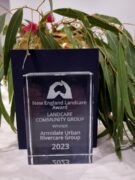 AURG Members and Friends
Bruce was invited to the Regional Landcare (New England and North West) Awards held at the Mercure Function Centre in Tamworth last weekend as we were nominated for the Landcare Community Group.
AURG won the award and Bruce was honoured to accept the award on behalf of our group.
There were three awards granted to Southern New England Landcare:
AURG
Steve Harvey, and
NT Koala Partnership
Well done everyone.