Friday, 17 Feb
3:00 pm
to
5:00 pm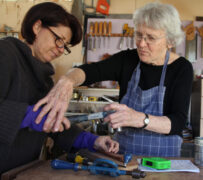 Supported by SLA, local woodworker and SLA member Bar Finch will be conducting a Basic Home Maintenance Course in February/March, at the Men's Shed.
You probably could fix more things around the house if only you had: a bit more confidence, a bit more knowledge, a set of basic tools, and an opportunity to practise.
There will be six two-hour weekly sessions, starting Friday 17th February, 3pm to 5pm.
The aim of the course is to develop confidence, learn skills, save money (and help save the planet by not consuming so much stuff). Also to get the satisfaction, and even joy, of being able to fix things.
The six sessions will start your weekend early, learning and practising some skills, with some friendly contact with others, and maybe you'll fix something at home over the weekend?
Each 2-hr session will include some instruction, some demonstration and quite a lot of hands-on practice.
It is BASIC home maintenance, it's not about major renovations or making things, but about the use of simple tools, fixing and repairing things around the house, and knowing when it's OK to have a go yourself, and when to get professional help.
At the first session, participants will be asked what tasks around their own house they would like to be able to tackle, and these will be included in later sessions, if practicable.
We'll look at what constitutes a modest set of tools for a household, and also show and demonstrate additional tools and techniques
You will be able to practice the basic skills of hammering, screwing, fixing one thing to another, sawing timber, and will also include: (but guided by the interests of participants):
filling holes (in timber, plasterboard etc),
dealing with sticking drawers,
installing/adjusting hinges
doorlocks.
torn flyscreens
measuring and marking
tips on painting
information about utilities (water, electricity)
keeping warm: weather strips, bubble wrap, curtains, pelmets, gaps,          insulation etc.
picture hanging, shelf hanging
discussion and illustration of tap washers etc
guided tour of a hardware store, and/or the Tip shop.
Enrolment and cost of the course
There is a limit of ten students, and enrolments will be on a 'first-in' basis.
The cost for the six-session course is up to you, between $60 and $30, to cover expenses, materials and teacher fee.
For further information, and to enrol, contact Bar.