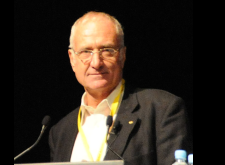 ABC Friends (Northern Tablelands) speaker for 2022 
Robyn Williams (ABC Science Show)
Why weren't they listening, when you were?
Wednesday 12 October, 6:15 for 6:30pm start
Armidale Bowling Club (Auditorium)
Free Admission
Robyn Williams, AM, AO, FAAS, has been host of the ABC Science Show, one of the world's longest-running radio shows, since 1975.  He holds honorary doctorates from seven Australian universities, and a variety of honorary appointments here and overseas.
The very first show carried an interview with Lord Peter Ritchie-Calder, with a warning about the effects of fossil fuel burning.  Robyn returns to this theme with a talk titled Why weren't they listening, when you were?
This continues the tradition of the Northern Tablelands Branch of ABC Friends; bringing to our community world-class journalists to talk from their areas of expertise about the critical role of public broadcasting in Australia.  For past speakers, please refer to our website.
Robyn will take questions at the end of his talk from the audience.  Meals and drinks available from the Club bar from 5.30pm.