| | | |
| --- | --- | --- |
| Friday, 2 Sep | to | Sunday, 4 Sep |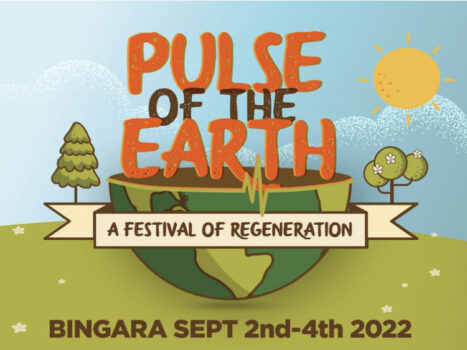 My name is Meaghan Stamer and I am one of the organisers of Pulse of the Earth — A Festival of Regeneration in Bingara this Sept 2-4th 2022.
This year we have exciting guest speakers lined up for our weekend festival along with live music, the lighting of the Phoenix and Childrens Fire ceremony (for the next 7 generations), food vendors, regenerate your health hub, kids creative hub, a chai tent right in the heart of the festival along with mini films, workshops, yoga and markets. This year we will also have a fleet of electric cars on display with people to answer any questions.
The last festival (pre Covid) in 2019 was a great success! We saw 1500 people over the weekend events and would have been much more if the weather had corporate! This year we are aiming for 2000-3000 attendees over the weekend.
This year we are using the idea 'Town block to farm block' and promoting it as a 'festival for normal people' to encourage people within our community and region who may not have had exposure to sustainable and regenerative practices, or want to learn more and have offer the opportunity to learn tools to support a healthy soil, water, environment and lifestyle.