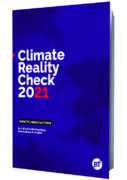 The pledges made at COP26 will not prevent 1.5 degrees or even 2 degrees of global warming. The outcome from Glasgow leaves a role for fossil fuels for many decades to come.
As a climate advocate, you know the underestimation of the climate reality poses grave consequences for global safety, health and well-being.
Get the 2021 Climate Reality Check, presenting an update of 20 critical observations and insights to help advocates address the climate emergency and support actions for a safe climate.
Stop increasing additional warming
Advocate for zero emissions by 2030
Prevent imminent damage
Support safe near-term cooling research & innovation
Restore safe climate conditions
Encourage large scale drawdown of pre-existing emissions