Sunday, 7 Nov
10:30 am
to
1:00 pm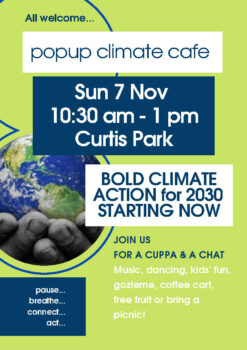 Similar to other successful events that have been held around the world — It will be an opportunity to meet, relax and connect over a cuppa and free fruit, with other delicious snacks such as Turkish gozleme and fresh coffee are also available– or bring your own picnic!
The event will take place in Armidale's Curtis Park on Sunday, 7 November, from 10.30am to 1pm. As well as refreshments and conversation there will be kids activities, climate information and live music from the Barnaby Street and Big Hairy Bush Bands. Drop in and share your thoughts and concerns!
The theme of the day is 'Bold Action for 2030 now – Together We Can'. According to an article in The Guardian, as the effects of climate change become harder to ignore, and climate anxiety continues to rise, more and more such events are cropping up around the world for everyone from youth activists to retirees to process their climate concerns.
'Climate change is happening, it exists already, and much of what is coming is already baked in in terms of the science,' said Rebecca Nestor, an Oxford-based organisational consultant who facilitated the recent Climate Psychology Alliance cafe that Kilmer attended. 'So a lot of what I think we're going to need to do … is [to support] people to acknowledge this and manage their feelings about it.' (The Guardian, 4 Sept 2021).