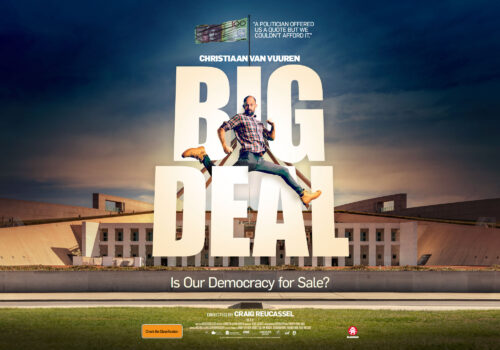 This new 2-part ABC documentary series, Big Deal directed by Craig Reucassel and hosted by Christiaan Van Vuuren, is a wake-up call about the frightening extent to which money has infiltrated politics. Christiaan Van Vuuren's unlikely journey shows us why we should care, and how we might work together to ensure our democracy is safeguarded from being sold to the highest bidder.
You may have already heard about the feature version of Big Deal which has been screening in cinemas and virtually over the last month. The new ABC 2-part documentary series has even more gripping not to be missed content.
Big Deal will broadcast on ABC TV and be available to binge on ABC iview  from Tuesday 19 October, 8.30pm. 
No matter which party people belong to, Big Deal aims to inspire Australians to engage in democracy.