Spring has sprung! So are you ready to shake off the winter doldrums and get out there? No matter if you're locked down or not – you can still don a pair of gloves (and a mask if required!) and roam the streets and parks of your neighbourhood. And if you're lucky enough to be living in a community with no restrictions, then there's no excuse…
We want all Aussies to join our Plog-a-thon!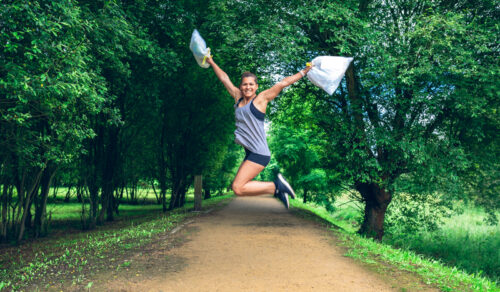 What's a plog, you ask? It's a Swedish word for picking up rubbish while jogging or exercising, and here at Clean Up Australia, we've embraced the term to celebrate a fun way to keep fit and promote sustainability.
It's the best way to get out for essential exercise in your neighbourhood and do some good – and we have a suite of awesome prizes available just for getting involved.  So….are you down to plog?
As with traditional walk-a-thons and other fun runs, there's a very small (ridiculously low!) joining fee of $5 enabling you to register as an individual or $50 for a company (both of which double as a tax-deductible donation!).
Once you've signed up, you can then set targets for fundraising, distance covered and litter collection, becoming eligible to win monthly prizes.
Just remember your safety is the most important thing and that COVID-related regulations differ between each state and territory – you can check the latest updates in your area here.