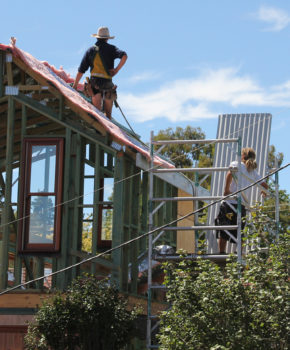 Any residential construction — both new houses and renovations — that requires Council approval in NSW also requires a BASIX certificate. BASIX states to be "one of the strongest sustainable planning measures to be undertaken in Australia . . . aiming to make all residential dwelling types in NSW energy and water efficient." However, whether or not it achieves this is open to discussion.
Targets are set based on a percentage improvement in energy and water efficiency in NSW buildings. They vary depending on regional climate. Recent changes have increased the level of compliance to try and improve overall quality.
For those already struggling to meet the BASIX requirements it is now even harder. This is usually the result of poor passive solar and energy efficiency in the overall design of the house.
We still see new homes going up with no eaves, minimal north-facing windows, too much western glass, insufficient insulation, and/or black roofs in warm climates. How then can BASIX claim to be a strong sustainable planning tool when such homes are being approved?
Previously it was possible to do the DIY version of the BASIX certificate for most projects – enabling buildings to achieve the said targets without a thorough thermal performance assessment. It simply tallies all the good bits till they over-ride the bad bits. However, DIY now only applies to renovations and to single dwellings that fit within a set of criteria– such as size, number and total area of glazing, and so on. All other dwellings require an accredited energy assessment for the thermal performance section of the certificate – which should make it harder to get 'bad' designs over the line.
The Government's stated reasons for upgrading BASIX were twofold: firstly, acknowledging the 'significance' of an ongoing reduction in energy use in NSW homes, and secondly, as a driver to reduce energy bills for customers. It would have been valuable to add: to ensure that more accurate and honest data was submitted; and maybe even an acknowledgment of our changing seasons – shorter winters, and hotter, longer summers.
Sadly, there was no acknowledgment that we need to try harder to design more appropriately for changing weather patterns. Or that it is far more successful to get the fundamentals of the design right in the first place rather than simply add in a solar hot water system to offset other energy use.
By Mahalath Halperin, Architect & Environmental Consultant