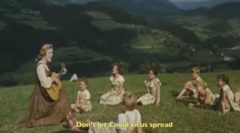 The Sound of a Pandemic! Don't worry, Maria and the Von Trapplings know how to deal with it!
A couple of quick points:
The song is not intended to be taken seriously – I made it to humour myself and am quite blown away at the following it's got over such a short time. No, wine is not a cure for the virus. Neither is whinging or blobbing (real words.) No, they're not good at social distancing in the video – it was released in 1965.
Wherever Patient 0 got it from, the song refers to the fact that major spread first started in Wuhan, something which literature from all sides acknowledges. This does not give license for anyone to think negatively about the region or play blame games.
Stay safe and in your bubbles – greetings from New Zealand — Shirley Serban