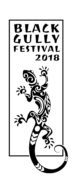 A stylised lizard is the 'face' of this year's Black Gully Festival – an annual celebration that brings people together to enjoy music, art, the environment and our community.
Designed by local artist Simon Mellor, this year's logo makes a creative mark while representing many elements of what the Black Gully Festival is all about.
"Black Gully Festival is a free and inclusive community event – and it is a lot of fun," said Simon.

"It is a whole day of live music, art exhibitions and creative workshops for children and adults. There are food stalls, market stalls and stalls showcasing many of the community's active groups and organisations.
This is a chance to catch up with friends and family, or just enjoy the atmosphere!"
Black Gully provides a beautiful space for the festival and is a testament to the event's environmental theme.
Since the festival began eight years ago, the gully has been evolving. Thanks to the work of dedicated volunteers, the gully continues to transform – from what had previously become infested with weeds to a more natural environment.
"Tree planting and other activities in and around the gully are highlights of the Black Gully Festival each year," said Simon.

"Everyone can get their hands dirty and make a positive impact. There is a very good chance that you will spot some birds, frogs or maybe a lizard!
Lizards, whether they are small fence skinks or larger water dragons, are so familiar. They live amongst us and in many ways symbolise a connection between the environment and our community."
The 2018 Black Gully Festival will be held between 10am and 10pm on 17 November in the parklands behind New England Regional Art Museum and adjacent to the Aboriginal Cultural Centre and Keeping Place.
For more information follow the Black Gully Festival facebook page.