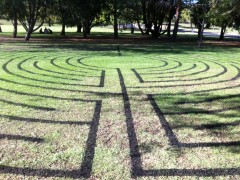 The labyrinth in Civic Park is now complete, with about 2740 white dots marking the edges of the paths. It is about five meters into the park from Dangar Street, opposite the Servies' car park, north of the duck pond.
Everyone is very welcome to walk it whenever, and use it for personal or group walks.
The next walk will be on Tuesday 22 December, probably 7-8 pm so that we can celebrate the longest day of the year and the solstice. Come at 6 pm with dinner picnic beforehand if you like.
Curiously, December's full moon lands on Christmas Day, so come on down for some stillness and gratitude in the evening… again, around 7-8 pm so we can see the full moon rise as the sun sets.
For more info, please ring or text Joy {mobile phone prefix oh for}03 966 517.
By: Joy Bowles