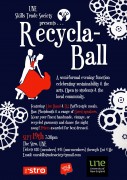 UNE Skills Trade Society's 2nd Annual Ball! This is a formal event, but the dress code is to wear something made, found, borrowed, or recycled. That's right – don't go spending hundreds of dollars on a new outfit, buy one from an op shop or better yet, wear a favourite you already own!
There'll be a buffet three-course meal (featuring everyone's favourite icecream and candy bar), live band The Kava Kings, bar, awards for best dressed, our famous photobooth, guest speakers, and presentation of the Find Art! award winners.
RecyclaBall is an opportunity to celebrate creativity, sustainability, and the recycling, workshop and environmental initiatives that the Skills Trade have been working on all year. Mingle with like-minded lecturers, university administrators and fellow students for a night of glamorous, guilt-free fun and frivolity!