| | | |
| --- | --- | --- |
| Saturday, 8 Nov 10:00 am | to | Sunday, 9 Nov 5:00 pm |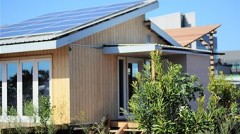 Booklets are now on sale that will give you access to the eleven local houses that will be open on the weekend of 8th and 9th November.
Five households in Armidale and six in Invergowrie have agreed to open up their houses and let people see a range of features that make their homes sustainable, and reduce their environmental impact.
They range from an original 1890s cottage, renovated in the mid-1990s, to a low-cost, handmade, not-yet-finished house; from an off-grid mudbrick house that's grown since 1979, to a just-completed house with the latest materials.
"It's a wonderful opportunity for people interested in living more sustainably to see actual examples in our community, and talk to homeowners about the details of their houses," says Robyn Newberry, from SLA.
SLA invites you to purchase a booklet with map and detailed descriptions of the houses, and opening times, which will help you plan your visits, and give you entry to the houses.
This is a self-transporting tour. The Tour Booklet is on sale at  Knight's Store, corner of Marsh & Mann; the Invergowrie General Store (both of which are  open 7 days and will be open for refreshments during the Tour), and also at Armidale Outdoors on Rusden Street.
Cost of the booklet is $25 ($20 conc), and one booklet will give entry to all the houses for people travelling in a car together.