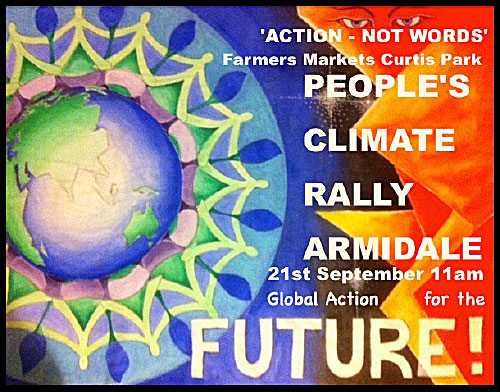 On Sunday, September 21st, just days before a landmark climate summit at the UN, Avaaz members around the world are taking part in a People's Climate March. World leaders don't believe enough of us care about climate change, that's why they're still not yet rising to the challenge of saving our planet. On September 21, we have an unprecedented chance to prove them wrong, with the largest climate mobilisation in history.
Residents of Armidale and surrounding districts are invited to gather for a family event and picnic on Sunday 21st September, as part of the world's largest People's Climate March. Can 1000 people GetUp! again this year! Meet in the centre of the Armidale Farmers' Market 11am. Pick up some delicious local produce for your picnic lunch & Look Out For Our Earth! Walk with us through Curtis Park, crossing the bridge on Faulkner Street, to the BBQ and playground area for lunch.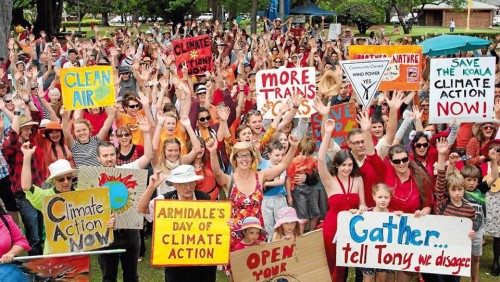 Wear your favourite costumes and funniest hats! Grab everyone you know on board for this. Bring your creative spirit, your instruments, and VOICES FOR CHANGE! Parade your T-Shirts, signs & banners with your MESSAGES FOR ACTION! Come for real and come for fun.
The impacts of climate change are deadly serious. This global action requires comical & creative efforts for some colourful attention. Street performers welcome. This year's global theme for climate is 'Actions – Not Words'. We want to hear from 'ACTIVE' Armidale residents, sharing and learning proven ways we can all take stronger actions ourselves, and further encourage actions from others.
Join us for some inspirational stories of direct powerful actions that work. Solutions we can share and implement into our own lives to reduce our human footprint. Bring your family invite all your friends, pack a picnic lunch, umbrella, hats, signs, shirts, stilts & beach balls (the sea is rising), dancing shoes, hula hoops, face paints, & music. Let's sing up a storm in Armidale and make a pledge to ourselves and the world for greater commitment to climate change action.
All Welcome. The power of Climate Action is in our hands.
Get up-to-date information on the Facebook event page.