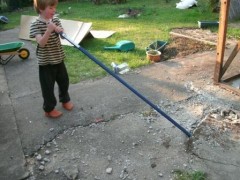 Are you interested in learning about the building process?  How to renovate/build sustainably with a small budget (and keep council happy!)?  Developing new (old) skills?  Sharing an afternoon with like-minded people?  Getting your hands dirty?  Contributing to your community?  Having fun?
Or perhaps you have some building-related skills or ideas you would like to share …
Then a "Sustainable Building Blitz" network in Armidale may be of interest.
I'm a single Mum preparing to "recycle" my garage into a studio/granny flat as an owner builder (see photo of us working).  I would love to form a network where members can share ideas, resources, information with like-minded people (including "experts") on their projects.
I'm particularly interested in organising workshops a bit like "permablitzes", which can be held at the site of anyone with a sustainable building project.  They are free, you get fed, new ideas and skills, and the person who hosts the workshop gets some of their building built!  This is instant reciprocity (as opposed to traditional "permablitz" projects which require you to assist with three other projects before proposing your own place as a project).
I've also been talking to a variety of entities involved in the building process (Council, town architects, building designers, draftsmen and builders, owner builders' association, building recyclers), and they are keen to support such a network.  We could have a workshop (at Kent House) with a panel of these experts with a title like "preparing to build/owner build sustainably".  The considerations for using recycled materials are quite interesting!
Please contact Cathie Lamont by email (heartandsoul-owner@slaati.org), mobile (zero-four-one-three 46 4026) or check out the group Facebook page (http://www.facebook.com/?sk=welcome#!/groups/172482272892874/) to find out more information.  Or come along to one of SLA's Thursday forums and introduce yourself!
Hope to hear from you!