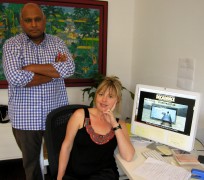 A very well reviewed film – 4 Stars in the SMH, a "see this film" from The Australian – is co-written by Pria Viswalingam and Armidale local Jacinta Dunn.  Both are past SBS stalwarts as well as having wide industry experience.
Decadence: Decline of the Western World is opening at the Belgrave Twin Cinema in Armidale on March 8, and both Pria and Jacinta will be in the audience.
Jacinta left Armidale to go straight to SBS after finishing her Arts Degree majoring in Communications at UNE. As well as SBS she has worked for the ABC and other commercial film makers here and overseas ever since.
The film highlights many of the crisis points now facing the western world. It looks at the underlying temper of the times when a backlash of self-examination is building as we face the apparent realities of the future.  Its purpose does not include in-depth analysis of such problems as climate change.
Decadence: Decline of the Western World is written and presented from the point of view of Pria – an Asian who has been educated in and loves what the West has embodied, but who questions what it seems to have lost and why people do not seem to have found happiness through their material wealth. He takes us to look at what he sees as a civilisation adrift.
He comments that  "Universities were the guardians of intellectual adventurism but are now relegated to mendicancy."
He asks "Is this as good as it gets?".
Decadence: Decline of the Western World is the first official selection at the 2012 Byron Bay International Film Festival after a successful five week season in Sydney and Melbourne.