Wednesday, 9 Nov
7:30 pm
to
9:30 pm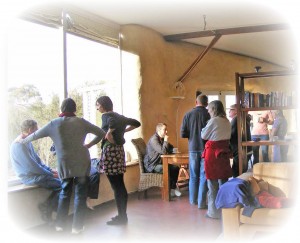 Progressive Cinema will screen Designing a Great Neighborhood at 7:30pm on Wednesday, November 9, at the Armidale Club, 91 Beardy Street. Turntables Restaurant will be open for dinner from 6pm.
In Designing a Great Neighborhood, director David Wann follows the progress of the Wild Sage Cohousing Community project,
where future residents participated in the design of their own neighbourhood. The stated architectural goal at the Wild Sage site in Boulder, Colorado, was a "zero emissions" neighbourhood in which solar energy, energy efficiency, and changes in behavior eliminate the need for fossil fuels.
Collectively, hundreds of thousands of decisions and choices were made to create the 330-home neighbourhood, where affordability and sustainability are primary goals. It wasn't a simple mission.
Cathie Lamont, convenor of Sustainable Living Armidale's Village Action Group, will be hosting the evening. "We started the Village group in March this year to help bring ideas and people together with a focus on sustainable housing options in the Armidale area. The name was inspired by the saying 'It takes a village to raise a child …' Village meets for a shared meal once a month and organises ad hoc events such as the visit to a straw-bale house on a dual occupancy illustrated below.
"Initially we purchased the film to inspire discussion amongst the group, but then we thought it might be more community-spirited to share the film with the wider "Armidale" village! Footage of lively discussions, interviews with key participants such as architects, developers and residents, as well as plain-English explanations of innovative sustainable practices, make this an
informative and inspiring film.
"It shows how the developers increase the space available to households by creating shared spaces and systems, without compromising on privacy and by negotiating with local building authorities to free up more "green" and recreational spaces.  While it is filmed in Boulder which is slightly higher, hotter, colder and drier than Armidale, much is relevant to our local community.  There is even reference to a very familiar feature "imported from Australia" – the dual-flush toilet!
Cathie recently attended an Intentional Communities Conference at Bundagen, near Coffs Harbour, and will answer questions and facilitate discussion on applying ideas to our own community after the screening.
All welcome. A small donation to cover the costs of purchasing the film is requested. For more information call Cathie on 0413 46 4026 or emailvillage-owner@slaati.org .
"Village" members visiting a straw bale house on a joint tenancy "mini" community near Armidale