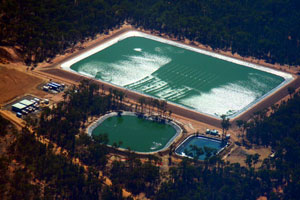 Armidale Action on Coal Seam Gas (AACSG) has been formed in response to the threat posed by coal seam gas mining to water, farmland and bushland.
The first event organised by the new group will be held at 7pm on September 29 at the Armidale Bowling Club.
There will be a presentation by Michael McNamara, who is touring NSW to raise awareness about the impacts of coal seam gas mining.
Local environmentalist, Carmel Flint, will talk about the effects of gas mining on natural areas such as the iconic Pilliga Forest near Narrabri.
"Everyone who wants to learn more about the threat posed by coal seam gas mining is invited to attend the event on September 29" said Ms Bea Bleile, speaking on behalf of AACSG.
"Even though the Armidale area is not currently threatened by gas mining, we are deeply concerned about the effects on our neighbours in surrounding regions and the grave threat it poses to the future of NSW.
"Our group was formed after a public screening of the movie 'Gaslands', which highlighted just how rapidly this type of mining can turn productive rural landscapes into industrial waste lands.
"We fear for the future of our water. Numerous studies have concluded and many reputable bodies admitted that the safety of coal seam gas mining cannot be relied on. A threat to our water is a threat to our farms and our food security.
"We are glad that Armidale is one of the stops of Michael McNamarra's Defend Our Water tour and we are keen to hear from him.
"The potential consequences of coal seam gas mining for important natural areas, such as the Pilliga Forest, have not yet received a lot of public attention.
"This is why we have invited local environmentalist Carmel Flint to talk about the coal seam gas exploration currently underway in the Pilliga Forest and its effects on plants and animals in the region.