Sunday, 16 Feb
8:30 am
Sunday, 15 Mar
8:30 am
Sunday, 19 Apr
8:30 am
Sunday, 17 May
8:30 am
Sunday, 21 Jun
8:30 am
//CANCELLED in response to COVID-19 concerns//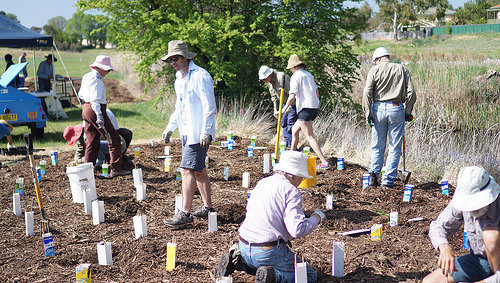 We have decided to change our regular monthly working bee to the third Sunday of the month. This is for members and friends to support the original Farmers Market that is now held at Saumarez Homestead on the second Sunday of each month and avoid a clash with our working bee. The members and friends at our last working bee were receptive for the change from the second Sunday to the third Sunday.
So proposed future dates will be:
3rd Sunday 16 February
3rd Sunday 15 March
3rd Sunday 19 April
3rd Sunday 17 May
3rd Sunday 21 June
We are planning to hold our next working bee on Sunday 16th February involving mulching and weeding the areas around the Narwan Eel native flower planting near Site 13 (Ribbon Gum).
Details for working bee are as follows:
Time: 8.30am
Date: 3rd Sunday of the month
Location: Dumaresq Creek downstream from Prickly Problems sign and picnic table, near Site 13; and south of Phil Wheaton Soccer Oval, accessed off Erskine Street or along bicycle way.        
What to bring:   BYO long sleeved shirt, long pants and sturdy boots.  Please also bring gloves, broad brim hat and sunscreen.
AURG will provide equipment, morning tea and a BBQ lunch for a gold coin donation.
We look forward to catching up with you if available.