Friday, 29 Nov
9:00 am
to
10:30 am
Friday November 29th Central Park, Armidale

After the extraordinary climate strike in September with 7 million taking part across the world on 20th and 27th of September it is time to keep the pressure up!
There is another global strike taking place on 29th of November. This is an important opportunity for us to continue to stand with young people calling for urgent action on climate change.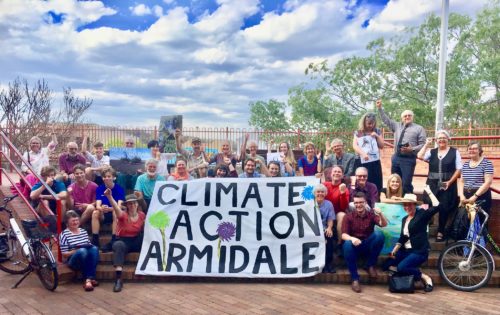 Following the last strike Armidale Regional Council unanimously and commendably moved a Motion to declare a Climate Emergency in our region. However, this recognition and call for significant action is not shared at the State or Federal political level and successful implementation at the local level is dependent on this.
Our Government's inaction on the climate crisis has set Australia on fire. People are hurting. Communities are being devastated. And summer hasn't even begun.
Our Government has repeatedly ignored Indigenous leaders and firefighters' warnings of a spiralling bushfire crisis. And they have failed to provide the support needed to manage country and bushfires in a time of climate crisis. We should not allow ourselves or our community to be divided on this issue.
On November 29, 9:00 at Central Park, join SLA, Climate Action Armidale, School Strike 4 Climate and all of us at Solidarity Sit-Downs to demand increased support for Indigenous land management and the Rural Fire Service and real climate action:
No new coal, oil and gas projects
100% renewable energy and exports by 2030
Funding for a just transition and jobs for fossil fuel workers and communities