Saturday, 29 Jun
2:30 pm
to
5:00 pm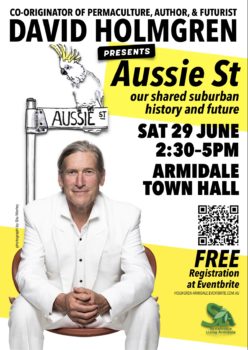 Aussie St; our shared suburban history and future
David Holmgren, permaculture visionary and story teller takes us back through the decades of our lived history in the streets where the quarter acre hosted the Aussie post war dream, through the decades of rising affluence and additions, ageing and infill, permaculture inspired retrofit and on, through a gritty but inspiring and realistic transformation in the Great Depression of the 2020s.
Aussie St is a permaculture soap opera, made real by masterful story telling that sounds a warning and clarion call for direct action on the home front. The presentation is also a window into the rich palette of design solutions and tips that Holmgren has explored in in his latest opus, Retrosuburbia; the down-shifters guide to a resilient future.
Come and be entertained, inspired and challenged.
Free Registration at Eventbrite
Costa Georgiadis from the foreword to Retrosuburbia:

This book is a dance, a tango between our habits and our actions, our visions and our intentions. RetroSuburbia boldly renovates what we know as our safety net and replaces it with an action plan; planning for the worst and hoping for the best. The answers are in the everyday. Let the transformation and retrofit begin.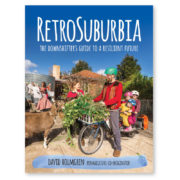 The 'Aussie St.' event will start with afternoon tea/coffee/nibbles for a gold coin donation — 30 minutes, then a presentation by David Holmgren — 30-50 minutes, then Q & A discussion — 20-45 minutes, and book signing/sales to follow.