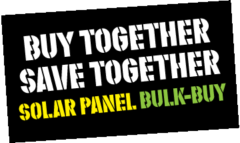 The 9th solar power bulk-buy block is currently open for residents, farms and businesses throughout the New England North West region.
As at the time of writing, deposits for just over half of the block have been taken.
Now is your last chance to purchase and install solar power before the renewable energy credits reduce again on 1 January 2019.
The bulk-buy discounts are up to 33% below regular retail prices. These discounts are especially significant given that we are only offering high quality solar panels, inverters and of course installation and after-sales service.
In short, we're offering top quality for highly competitive prices!
Click here for details of the solar power packages and bulk-buy pricing!
Up to 33% better than regular retail for high quality Tier One solar power systems.
Tamworth based Eco Energy & Solar Solutions are Farming the Sun's solar specialist partner for the New England North West bulk-buy program.