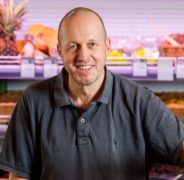 Faculty of Science, Agriculture, Business and Law Seminar present Guest Lecture
"Healthy soils, healthy crops/livestock and healthy people"
When: 11am Thursday 25

th

October 2018
Where: J.N. Lewis Seminar Room, School of Law, Building W038
Who: Professor Carlo Leifert, Director Centre for Organics Research (COR) Southern Cross University, Lismore, NSW, AU
Prior to taking up his position at Southern Cross University on the 1st of March 2018, Carlo was Research Development Professor of Ecological Agriculture at Newcastle University for 17 years, and also served part-time as Dean for Business Development (2014-2016) in the Faculty of Science, Agriculture and Engineering.
His work over the last 20 years has focused on:
applied agronomic R&D and technology transfer to improve quality and safety and reduce costs in sustainable and organic food production systems,
strategic R&D into interactions between food production methods and food quality (especially nutritional and sensory quality) and safety characteristics and
selection/breeding of crop and livestock varieties suitable for "low input" and organic production systems.
Carlo is visiting UNE to explore research collaborations within the Faculty of Science, Agriculture, Business and Law.