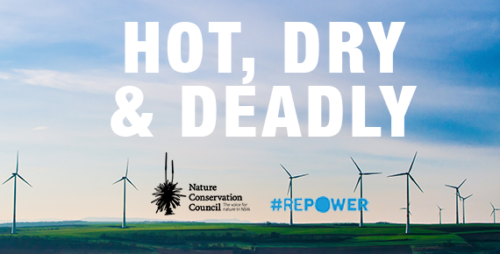 It's not just people who are feeling the impacts of our changing climate. Precious natural places and wildlife around NSW are also under pressure, with longer, hotter summers, changing rainfall patterns, and more frequent and intense bushfires.
Join us for an evening of discussion in Armidale as we launch our new report, Hot, Dry and Deadly: Impacts of Climate Change on Nature in NSW, in collaboration with Sustainable Living Armidale, the NSW National Parks Association, and Starfish Initiatives. If you have already observed effects on local flora or fauna or if you want to learn what to look out for, please come along.
This is your chance to grab a copy of the report, hear from our Campaigns Director Daisy Barham and Adam Blakester of Starfish Initiatives, and find out the how you can act on climate change by embracing our campaign to #Repower Armidale and NSW and get involved locally.
WHAT: Hot Dry and Deadly: Impacts of Climate Change on Nature in NSW Report Launch and #Repower campaign overview.
WHEN: 6pm-9pm, 28th August, 2017.
WHERE: The Tops Function Room, Armidale Bowling Club.
RSVP: Here for catering. Some drinks and snacks will be provided.
We look forward to meeting you and working together to stop the worst impacts of climate change on our beautiful natural places and precious wildlife.
See you there!