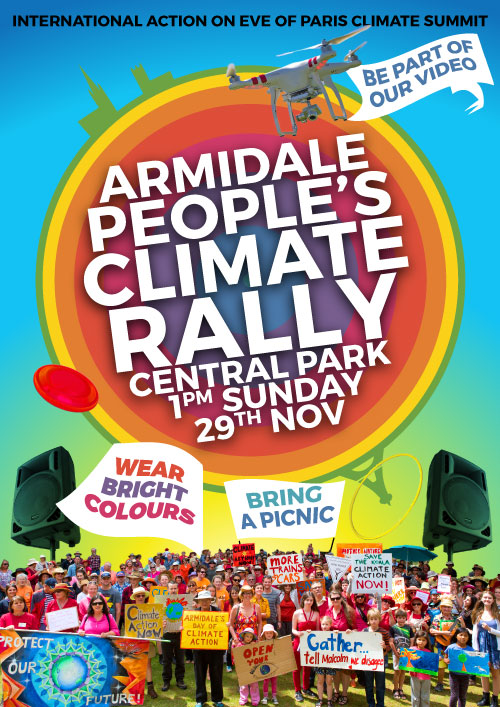 On the weekend of the 28 and 29 November, as world leaders arrive in Paris for the UN Climate Summit, millions of people will take to the streets in hundreds of major cities around the globe – and Armidale will have its own Climate Rally starting 1pm this Sunday at Central Park.
Thousands of events will be held in more than 150 countries to deliver a resounding public call to world leaders to take urgent and ambitious action when they meet in Paris.
"We want this year's event to be even bigger and more colourful than last year's 500 strong local Climate Action Rally" said Richelle Roberts, Convenor of Armidale's Road to Paris action group.
"It will be a short punchy event." Richelle says. "Come to Central Park wearing bright colours, bring a picnic, games, and be part of our video shoot around the beautiful rotunda, featuring the community created 55m banner, with messages from Armidale to Paris: keep global warming below two degrees."
By uploading the video to the internet we will add Armidale's voice to the international pressure to limit global warming to less than 2 degrees.
People are invited to stay around, have a picnic and listen to music. Performing will be freedom folk singer guitarist Yhan Leal from Bello, local activist muso Greg Windred, the Wild Women of Armidale and the Firebirds Community Choir, with local DJ Giv keeping the energy up in between acts.
It is the last hoorah for the Sustainable Living Armidale's action group – Armidale Road to Paris. The team brought Bob Brown to Town Hall back in September, helped run the highly successful 2015 Black Gully Festival and produced a full page newspaper ad listing 500 names of locals and local businesses that support strong action to keep global warming below 2degrees C.
Armidale People's Climate Rally starts 1pm this Sunday, November 29th, at Central Park.