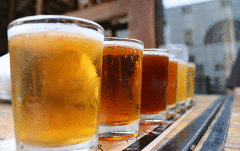 You may be familiar with community supported agriculture (CSA) ~ which is where locals purchase a share of the season's harvest upfront and get a box of fresh produce each week from the farm.
Now you can get your craft beer that way too!
By purchasing a craft brewery share, you get to take home a specified quantity of beer at regular intervals, usually monthly. You are directly purchasing from the producer, thus creating a relationship between creator and consumer. Memberships typically offer six- or twelve-month options and include additional benefits like discounts and members-only events.
It's a system that works well from a brewery's perspective too. "For a small producer, you get money upfront that you need to buy ingredients and packaging, you know what people want ahead of time and they come and pick up the beer themselves," explained Page Buchanan, owner of House of Brews. "So, it solves the challenges of knowing what to make, buying the raw materials to make it, and then distributing it to the end consumer. It's very efficient."
Community supported art is happening too. Commissioned artists create a specified number of pieces, usually around 50 or so, which is the number of shares available for purchase. Each share typically consists of one piece from each of the participating artists and costs anywhere from $50 to $500. Shares are distributed through a series of "pick-up parties," allowing patrons the opportunity to meet artists in their community.
What else could communities support, and in so doing further strengthen rural sustainability?
Re~ Post:  Four ways communities support everything   | Yes Magazine