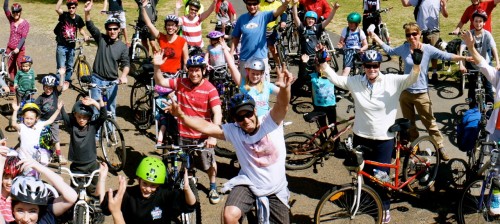 Bike week is an annual community event promoting cycling as a healthy, sustainable, economical and fun activity for riders of all types. We hope you can join us for these great Bike Week events!
RIDE IN THE PARK
Sunday September 15 – 10:30am – Farmers' Market – Curtis Park
Join us for this fun family event and ride along the creek lands. Prizes and entry to win a brand new bicycle!
COMMUTE CHALLENGE
Monday September 16 – Friday September 20  
Log and tally your bicycle trips between Monday and Friday and we'll see  who in Armidale will proudly wear the badge for most committed commuter! Fill out a commute card to win prizes at the Finish Line Event, including entry to win the bicycle!
What can you count as a commute/trip?: Any bicycle ride you take between the competition start and end dates that takes you from point A to point B for a specific purpose. For instance, commutes from home to work, to do the shopping, to visit a friend or run an errand, or any other non-recreational ride that may have otherwise been done in a vehicle.
How is the competition scored?: The purpose of this competition is to get people pedaling instead of driving and to promote bicycling as a sustainable transportation mode in Armidale. While we encourage you to rack up the kilometers by biking as many places as you can during Bike Week, points will also be awarded for number of trips taken by bike and bonuses will be given for new riders and teams that include new riders!
How do I get and submit my Scorecard?: Pick up a commute card at Sport UNE, Armidale City Council Office, or the Goldfish Bowl Cafe, fill it out and bring it with you to the Finish Line event to be eligible to win the badge of Armidale's most committed commuter. If you can not attend the Finish Line Event, you can email your commute card info to bikeweek@slarmidale.org before noon on Saturday September 21.
FINISH LINE
Saturday September 21 – 3pm – The Armidale Club
A Bike Week celebration and  social afternoon with drinks, nibbles, and awards. Bike prize will be drawn!
Happy Riding Armidale!!