Saturday, 24 Apr
11:00 am
to
2:00 pm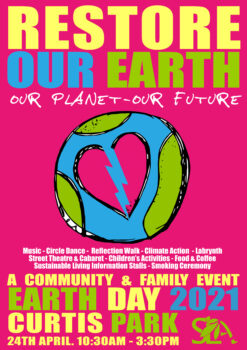 With floods following fire and pandemic, it's never been more vital to take care of the planet we live on, and the New England community will have the chance to renew focus and learn more about what they can do at an event being planned around this year's Earth Day in April.
'Restore our Earth' is a fitting theme for Earth Day 2021, and the community event in Armidale aims to provide opportunities for entertainment and family fun as well as finding out ways we can live more sustainably and care for our world.
'Restore our Earth' will take place on Saturday, 24th April, at Curtis Park in Armidale from 11am – 2pm. This is to coincide with other Earth Day events being held around the world, including the US and the Biden administration's convening of a global climate summit on the actual Earth Day, Thursday, April 22nd.
The event will prompt reflection on the Earth's needs as well as its gifts, utilising the Curtis Park Labyrinth and creating a Circle of Life around the park. A community circle dance, rock cabaret, acoustic and folk music are planned, along with talks and street theatre. There will be opportunities for climate action and education, and the event will be family friendly with activities for children and young people.
Council, community, business, university, school or other organisations with an interest or expertise in a sustainable future are being invited to create stalls and educational and conversational experiences as part of a mini-sustainability expo component of the event. These will showcase the problems, the solutions and the movements that are happening in our regional community and organisations to create a viable future in the face of climate change, biodiversity loss and on-going pollution.
As well as these stalls, providers of good food, coffee or other consumables are being invited, plus those offering sustainable and local goods or services. The event will be plastic bottle free with water stations provided and will aim to minimise waste.
Organised by Climate Action Armidale in conjunction with Sustainable Living Armidale, more information and stall bookings (by 9 April) can be obtained by emailing Mark Cooper